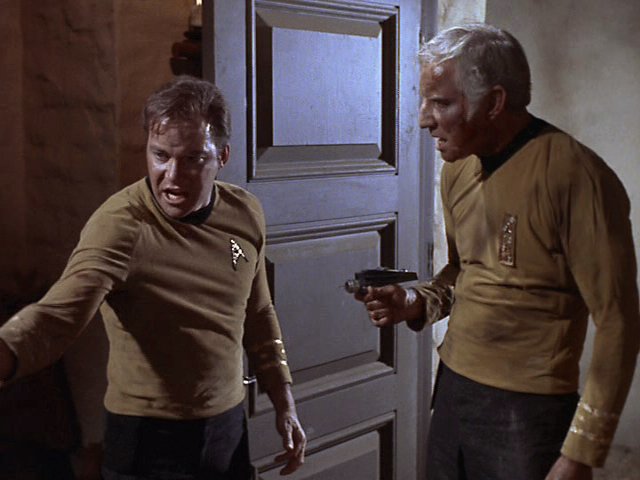 Spock scratched at the door. His ploy worked! One by one the guards left the lab to investigate and were swiftly dispatched by Mr. Spock. Kirk found Dr. McCoy at work.
"Well, doctor, what can you tell us?" he asked.
McCoy replied, "There is no immunizing agent! Apparently the survivors of Omega's wars have lived only because they had superior resistance - antibodies in their blood - it inhibits all infection. Sad - if Exeter's crew had stayed a few more hours, they wouldn't have died."
"Are you saying we're free to leave?" Kirk was dubious.
"Yes, Jim - that is true," the doctor reassured him.
Meanwhile, during the above conversation, Spock had busied himself in the repair of some radio equipment.
"Captain, I can signal Enterprise!" he claimed.
At that instant, a battered and bleeding Capt. Tracy entered the lab. He issued an "I'll do the talking" warning and aimed his weapon at Mr. Spock. The phaser beam grazed the First Officer, but destroyed the radio.